Fabrizio Licheri was born in 1978. His interest in electronics began at the age of 12 by reading one of the few electronic magazines that were on newsstands: Elettronica Flash. At 14 he had his first IBM 386sx Personal Computer and immediately became interested in Dos programming. In the following years, with the Commodore 64 he discoverd Basic, which he continued to use with the Amiga 500 and the Pentium 75, the first computer with the Windows 3.1 operating system.
With the advent of new consumer Computers he discovered 3D graphics, first with 3D Studio Dos and in the years to come with Lightwave. He entered the world of special effects and from that moment on he dreamed of the special effects of Hollywood.
In 2002 he developed RenderDEG, a software written in Visual Basic to connect 10 computers on a network and to distribute the rendering of animations with Maya on up to 10 PCs, a small Render Farm at Home.
Over the years he attended regional courses in applied electronics and programming with Visual C++.
For many years he has developed websites with PHP and MySql and apps for iOS and Android, but never forgot his great passion: shooting videos and working in the field of digital visual effects.
He made some short films and music videos with Cordamara and Roberta Faccani (ex singer of Matia Bazar).
THOSE WHO ARE CRAZY ENOUGH TO THINK THEY CAN CHANGE THE WORLD USUALLY DO. (STEVE JOBS)
Anaconda
"To get to know a subject in depth, you have to dig down to the roots. Only in that way, we can know the secrets, the problems and the solutions to solve them. And only in that way, the difference arises between who "knows" a topic and who really knows it!"
Due to his vast experience in the use of Photoshop and other compositing software in the field of visual effects and image manipulation, he realised how important it was to understand in depth what really happened when he tried to modify an image. For this reason, in his spare time he decided to develop Anaconda, a software with advanced image manipulation features, including colour correction, LUT generator, matte and everything regarding pixel manipulation.
At the same time it develops other software among these, FFMPEGUI, a software which uses the renowned Ffmpeg command line program, which permits the conversion and transcoding of video. It has been released for free in beta version. You can download it and find more related information on this page.
In parallel with his programming work, he continued his training in the field of visual effects by attending two Masters. The first in After Effect, Lightwave and other software such as Mocha, Syntheyes and Vue. The second centred mainly on the Foundry package: Nuke and Modo. He decided to transform his true passion into work, converting the old BriXio Film (born more out of a bet) into Lumex Film, an independent producer of short films, commercials, music videos and providing rental of cinematographic and video equipment. Alongside Lumex, he started up BigFrame, a post production and Vfx studio.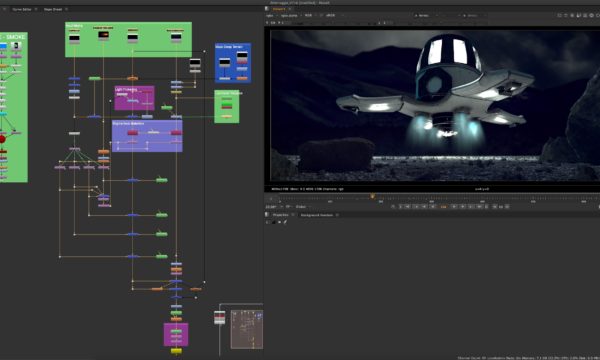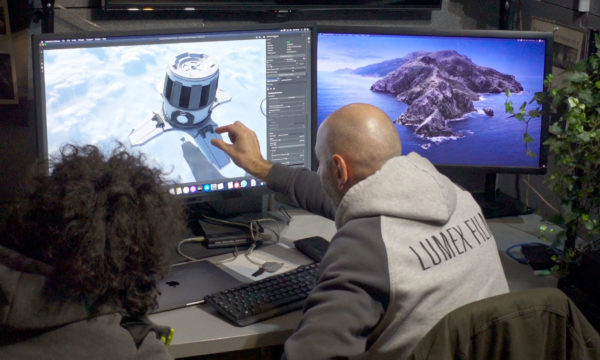 Always trying to deepen his knowledge of special effects, he decided to follow a specialist course on Nuke with Steve Wright, guru in the field of special effects in Hollywood. In the meantime, a collaboration was born with Steve which led to the filming of a videoclip currently used in the Master in FXEcademy Special Effects and in Workshops around the world, the latest in Framestore.
He also decided to deepen another of his passions: musical compositions. He followed a Master in Film Music Composition with Susanna Quagliarello, teacher of vfxwizard. You can hear some compositions written for images in the section: colonne sonore (to be updated).
He was quickly taken by the musical sector and started to study pianoforte, taking private lessons for a few months. After about six months he composed Amelia, and in a little less than two years he recorded three pieces on the piano: Amelia, Guerriera and Speranza.
IF YOU WANT SOMETHING YOU'VE NEVER HAD YOU MUST BE WILLING TO DO SOMETHING YOU'VE NEVER DONE. (THOMAS JEFFERSON)
He recently finished the production of a short film written and directed by Carlos Milite: PLANT. In addition to production, he contributed to the creation of the costume and set design together with Carlos, and he designed and created the stage electronics. To conclude, he decided to immediately put the teachings of the Master of film music into practice (still in progress), creating the soundtrack.
PLANT wins 9 Awards as best actors, director, editor, screenplay, best Sci-Fi short film between the Los Angeles Film Awards, New York Film Award and Flim in Focus, wins as best soundtrack at TMFF, a nomination always for best soundtrack and a nomination for best photography. In total, for the moment, Plant wins 9 Awards, 2 nominations and 7 official selections!
As well as making videos, composing music, programming software and renting video equipment, he has recently introduced an in-depth teaching service of Nuke, 3D and vfx through Skype sessions. If you are interested in learning or deepening your knowledge of some subjects, please complete the contact form to request a quote.
He loves his job and likes to work hard.